Wearable technology might be the most important type of technology for older adults because it can always be with you and has the possibility of saving your life. The primary benefits relate to safety/security and healthcare, with devices issuing warnings, allowing you to monitor your health, and summon help if needed.
This article introduces, and showcases, a small sample of existing products in three main areas: multifunction devices, devices addressing the top chronic conditions of older adults, and devices addressing other conditions, diseases and impairments impacting many seniors.
When considering most health-related offerings, you should consult with your healthcare provider.
Multifunction Devices
With Medical Alert Service
Medical alert companies, which require a monitoring service for a (usually) monthly amount, have begun to offer multifunction wearable devices integrated with their monitoring services.
A major new initiative was announced in 2018 by two of the top medical alert companies, MobileHelp and Medical Guardian. Both have introduced a wrist worn combination medical alert and smartwatch. Pictured is the MobileHelp Smart. Medical Guardian's offering is named Freedom Guardian.
Without Medical Alert Service
Smartwatches are becoming the dominant wearable technology due to the increased utility over other categories. The Apple Watch includes an ECG/EKG monitor with atrial fibrillation detection and fall detection.
The Apple Watch and others can also make and receive calls, use the Maps app, play Apple Music, and more. If you (sometimes) go out without a phone, this could be a lifesaver. However, there is an extra monthly cost  (beyond the iPhone service cost) making a comparison to similar Medical Alert Service offerings worthwhile.
Features not requiring cellular include heart rate data with alerts (multiple reports of this saving lives), fitness tracking features (a strength), Siri conversational assistant, water resistance. Apps are what make smartphones so valuable, and the same is true for smartwatches. For the elderly, there are apps that can be used in emergencies (SOS), fall detection, and detection of potential medical problems.
Fitness Trackers
Fitbit Charge 5
Fitbit has an entire line of fitness trackers from the brand synonymous with this product category. The Fitbit Charge 5 includes all of the standard features and more. One interesting feature is the readiness score, which uses insights from your activity, sleep, and heart rate variability to let you know how ready you are for the day.
However, it is being challenged by competitors, particularly from China, with low prices and rich features. Fitness trackers are less costly, include a number of the same features, and are smaller and lighter on the wrist than smartwatches, but lack apps.
So, in addition to the considerations noted above, if you are interested in a multifunction device and don't care about the ability to add apps, you may find a fitness tracker with all the functions you desire for considerably less money than a smartwatch.
Motiv Ring
The Motiv Ring Activity Tracker is an example of how products with similar functionality can be available for different body locations.
This one, claiming to be one of the smallest fitness trackers available, includes tracking activity, sleep, and heart rate while being comfortable and stylish. It measures the following: active minutes, resting heart rate, activity type, calories expended, the intensity of activity, number of steps, sleep duration, distance.
Devices to Monitor Top Chronic Conditions
Medical device technology can collect biometric data such as heart rate (ECG and HRV), brainwave (EEG), and muscle bio-signals (EMG) from the human body to provide valuable information to address chronic, and other health-related conditions.
Information from the National Council on Aging (NCoA) on the top chronic conditions differs somewhat from the Centers for Disease Control and Prevention (CDC), but NCoA provides the nice graphic below.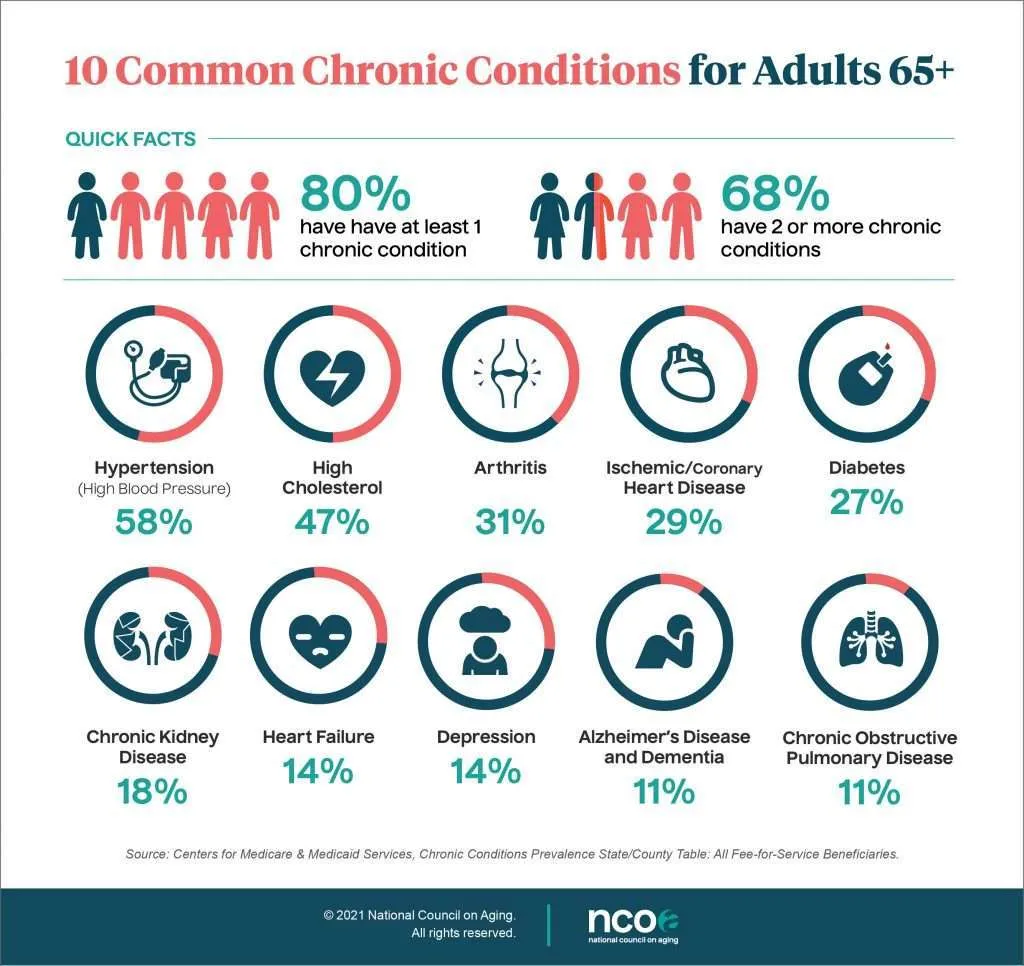 Heart-related conditions
The graphic above indicates four of the top ten conditions are heart-related, and the CDC states that heart disease is the number one cause of death in the U.S., with high blood pressure and cholesterol being two of the top risk factors. The two top wearable technologies today, smartwatches and fitness trackers, increasingly include heart monitoring.
KardiaMobile
KardiaMobile EKG Monitor, from AliveCor, is a small, light-weight, device you can easily take along with you. It works along with the AliveCor Kardia app on a broad range of smartphones and tablets. EKGs can be stored on your connected smart device and sent by email to your doctor. Premium features of the companion app are optional.
It is "FDA-Cleared to detect Atrial Fibrillation, Bradycardia, Tachycardia or Normal Heart Rhythm in 30 seconds." Free features are "unlimited EKG recordings with instant analysis, blood pressure* and weight tracking, and storage of recorded EKGs on your phone." The premium plan, $9.99/month or $99/year, adds device replacement, cloud storage, personalized health reports, and medication tracking.
An enhanced version, the KardiaMobile 6L, is also available for purchase. It provides six times the information for your doctor to interpret – 6L is for 6 leads. An EKG from a medical professional typically uses 12 leads.
Omron
Omron, as noted below, under Arthritis, is a major vendor of healthcare technology products. Its Blood Pressure Monitor – Zero Heart Attacks, Zero Strokes – is focused on blood pressure, wanting people to change from checking it to monitoring it.
The Omron HeartGuide is a smartwatch-like wearable that has an inflatable cuff, similar to the traditional arm-located cuff. It is also a bit of a multifunction device, additionally measuring physical activity and sleep plus can provide reminders and notifications of received calls, texts, and email from a connected smartphone.
*AliveCor + Omron Partnership
These two technology and product leaders, AliveCor for EKG, and Omron for blood pressure have partnered, with Omron making a significant financial contribution to AliveCor, in furtherance of Omron's Generation Zero Mission. The AliveCor Kardia app can integrate blood pressure data from a number of Omron blood pressure devices.
In the spring of 2019, the Omron Complete Blood Pressure Monitor + EKG became the first home device in the U.S. to combine a blood pressure monitor with EKG ability, a result of the partnership.
The collaboration currently does not include wearable technology.  Asus, a significant Taiwanese technology company, has a similar product. Unlike the Omron HeartGuide, Asus does not claim it to be a medical device, but it claims more functionality, lower price, and longer battery life.
Omron Platinum Blood Pressure Monitor
The Omron Platinum Blood Pressure Monitor is a digital bluetooth machine with upper arm cuff that stores up to 200 readings for two users (100 readings each).
I find it interesting that manual hand-pumped ones with mercury are considered the "gold standard" and are typically used along with a stethoscope, although the greatest accuracy is probably not the most important thing in most use cases.
A few years back my doctor suggested I test my blood pressure, so I got an upper arm electric unit, used it for a while and haven't again for quite some time. I now only have it measured when I see a doctor, and that is also via an electric upper arm machine.
I believe that wearable blood pressure monitors will become very popular as there is considerable value to continuous monitoring. Other body locations than the wrist are being researched for wearable blood pressure monitors.
Cholesterol
There are no devices specifically for people with high cholesterol, and maybe there never will be. I have slightly high cholesterol and family history with heart issues.
As high cholesterol is one of the top risk factors for heart-related conditions (cardiovascular disease (CVD)), wearable technology to monitor the heart (see above) is why I have an Apple Watch 4. I expect that a future version will also be able to monitor blood pressure.
Determining cholesterol levels requires blood tests. However, unlike with diabetes, there is no compelling reason for continuous monitoring. The frequency of these blood tests may be determined by the severity of one's levels, and for me, it is once per year with my annual physical.
I can envision a (distant) future with "things" in our bloodstream constantly monitoring for everything that could impact our health.
As with many other health issues, diet and exercise are recommended to deal with cholesterol. So, fitness tracking is another wearable technology function applicable to those with high cholesterol. There are also apps which help with fitness and diet.
Arthritis (and other types of chronic pain)
There are over 100 types of arthritis! Osteoarthritis (joints) is the most common and is typically age-related. There are a number of technology products that are designed to provide pain relief from a variety of sources, arthritis included.
Below are two notable wearable devices using TENS, which stands for Transcutaneous Electrical Nerve Stimulation, for people wishing to avoid drugs. There are many other TENS devices available, but most require pads with wires.
Omron Pocket Pain Pro TENS Unit
The Omron Pocket Pain Pro TENS Unit can be placed on various body locations where some pain is experienced. In addition to being well reviewed, this product is from a very large, international, Japanese company, with a significant U.S. presence.
Qwell Wearable Pain Relief
The Qwell Wearable Pain Relief Technology Kit has received some very positive reviews and 80 percent of subjects in a study reported improvement of their chronic pain. There is a 60-day money-back guarantee for the other 20%. This device can be worn day and night.
It provides "wearable intensive nerve stimulation" (WINS), said to be a form of TENS, differing as it is worn on the calf rather than over the area of pain. This technology results in the body's production of its natural pain control system.
Diabetes
Active Forward Contour NEXT EZ
The Active Forward contour NEXT EZ is a traditional home blood sugar testing kit and is considered among the best, for both price and accuracy.
However, another class of device, continuous glucose monitoring (CGM) systems are becoming the preferred solution. They are beginning to integrate with smartphone apps instead of special-purpose devices to capture, store and communicate the continuous readings. Medicare coverage of smartphone-connected CGM devices was announced in 2018, and has increased the adoption of this class of device.
FreeStyle Libre System
CGM systems and other approaches aim to reduce or eliminate, the main negative aspects of older technology.
Negative aspects include blood sampling (finger pricks), real-time data and trends with alarms, and the ability to immediately determine the impact of foods on your blood sugar. There is also the option of being able to remotely monitor the user's data. And some integrate with insulin pumps.
The pictured system includes a small round disposable sensor and a separately purchasable reader device. There are now is a smartphone app that eliminates the need for the reader and another app to share information with others. Another leading competitor's offering also offers a smartphone app. Both require a prescription.
There are a number of innovative technologies under development, but don't count on anything any time soon. One long-term partnership between a leading CGM manufacturer and the Alphabet (aka Google) medical technology operation has been "redefined" after a joint product had been expected in 2018.
Kidney Disease
Work on three fronts has been underway for quite a while with the usual speculation of possible availability within the next few years. The large majority of patients must visit dialysis centers.
While home dialysis equipment exists, it accounts for a small percentage of the market, but some major companies are reported to have projects to address the obstacles.
A second area is ongoing research into a wearable artificial kidney ("WAK"). And a third area is a project to create a surgically implanted bioartificial kidney.
Depression
TheBrainDriver v2. tDCS
There are a variety of different types of depression, with different causes, and with varying degrees of severity.
The most common forms of treatments are medications and psychotherapy. For a number of patients, the treatments are not satisfactory.
A number of brain stimulation technologies have been developed to treat depression and other brain-related conditions. An introduction to them can be found on this page from Johns Hopkins. 
Most of them can only be used under medical direction. However one type, Transcranial direct current stimulation (tDCS), is available in products for home use, some without a prescription, such as the TheBrainDriver v2. tDCS.
There are a growing number of these devices and they are also marketed for other purposes such as mood improvement, athletic performance, pain reduction, and sleep improvement.
Cognitive Conditions – Dementia, Alzheimer's Disease
GPS tracker shoe insert
There is a broad spectrum of memory-related conditions. Some of the devices referred to above regarding depression are touted as helping memory (and other brain-related conditions). The product shown is helpful for seniors that have a tendency to wander off. 
Conversational assistants, such as Alexa and Google Home, are being reported as helpful for milder situations, such as this report by an early-onset Alzheimer's sufferer.
In more severe cases, like many other conditions, medications are frequently the treatment. But new technology developments are showing the promise of drugless treatment.  
Here is an example: A collaboration between a startup, SimpleC, and IBM, providing technology solutions to patients, their families, and clinicians.
Chronic Obstructive Pulmonary Disease (COPD) (and Asthma)
Microlife Digital Peak Flow Meter
Chronic bronchitis and emphysema are older terms for some types of COPD. Asthma has similar symptoms but is a different condition with, in general, different treatments. COPD is more (old) age-related. The Microlife Digital Peak Flow Meter measures Peak Expiratory Flow (PEF) and Forced Expiratory Volume in 1-second (FEV1).
PEF is the fastest speed air can be blown out of the lungs after inhalation. FEV1 measures the volume after exhaling in 1-second. Peak Flow (PEF) and Forced Expiratory Volume in 1-second (FEV1) measurements can tell how well lungs are breathing by monitoring airflow.
The device keeps a record of the measurements which are reported to the patient's doctor. In Europe, similar devices use a smartphone app for the recording function.
Another device, also used for COPD monitoring under physician oversight, is a pulse oximeter, which usually attaches to a fingertip to measure the amount of oxygen carried in the blood. An oxygen level of 95% or above is good and 92% or below is a concern. Pulse is also measured.
Other Conditions and Impairments
Many conditions, including those above, and impairments impacting the elderly also affect the younger population in large numbers. Some of these, such as vision and hearing, are general population issues, while others, such as balance and osteoporosis (both will be added later), are primarily found in the older population.
Vision
DOT WATCH – Braille & Tactile Smartwatch
Vision impairment spans just needing reading glasses all the way to complete blindness. There are many types of solutions for a variety of different types of vision impairment.
Braille was, and remains, very important, and is now implemented in various devices, including the pictured smartwatch. A standards group that includes Apple, Microsoft, and Google, recently announced a new standard for braille displays.
The standard will allow the displays to be used in a similar fashion to a mouse or keyboard across different operating systems and devices. 
Legal and competitive market requirements have spurred accessibility features to be included in computer, smartphone, and tablet operating software, as well as some websites.
There are also quite a few apps that are designed with the vision-impaired in mind.
Hearing
Oticon Opn Hearing Aids
The hearing aid, the most important hearing-related technology, has come a long way.
I hadn't heard the term "Hearables" before. Initially, it was derived from wearables and headphones.
Hearables now refers to multipurpose, technically advanced, electronic-in-ear-devices, including advanced hearing aids.
The Oticon Opn pictured is an example of one from a leading hearing aid manufacturer and was the first internet-connected hearing aid.
Some hearables include biometrics and connectivity with smartphone apps.
Otofonix Encore
Another category of hearables is Personal Sound Amplification Products (PSAPs). Hearing aids are expensive (a reason many seniors go without) requiring professional services to develop a solution tailored to the client's specific hearing loss profile.
When the hearing loss is not very severe, PSAPs may be a good alternative at much less cost. This article by Harvard Medical School provides a good overview.
The Otofonix Encore device pictured is one of several behind the ear (BTE) models offered by this leading PSAP company. Other PSAP types are in the ear (ITE) and receiver in canal (RIC).
Vendors may offer a free trial, and especially for those that cannot afford hearing aids, PSAPs may provide an affordable way to improve their hearing.
Sleep
Sleep plays an important role in your physical health. For example, sleep is involved in the healing and repair of your heart and blood vessels. Ongoing sleep deficiency is linked to an increased risk of heart disease, kidney disease, high blood pressure, diabetes, and stroke.

National Institutes of Health (NIH)
Sleep tracking is becoming a very prevalent feature of many devices such as smartwatches and fitness trackers. For those not keen on wearing them at night (or needing to charge!), there are a number of devices like the one pictured, and even beds with built-in sleep monitoring technology.
As mentioned in some other of our articles, falling is a serious concern for older adults. And since sleeping usually happens in a bedroom, this informative Guide to Bedroom Fall Prevention provides valuable insights to understand the risks. The article also offers practical recommendations to address those risks.
As falls are a very serious problem for the elderly, and do not only happen in the bedroom, here is an article on preventing tripping and falling in the bedroom and many other locations.
The Past and Future of Wearable Technologies for Seniors
The invention of the transistor allowed hearing aids to become truly wearable in the 1950s. They became fully digital in the 1980s. Additionally, senior needs inspired the wearable Lifeline call button (of "Help, I've fallen and can't get up" fame). Introduced in 1972, it was the first Personal Emergency Response System (PERS).
In recent years wearable technology has seemed to explode. Today fitness bands, earphones/earbuds (for music and phone use), and smartwatches are the dominant product types. The bulk of these products are currently not designed specifically for seniors.
Technology advances in sensors (miniaturization of them and processing components), communications (Bluetooth and emerging "5G" cellular), "cloud computing" and artificial intelligence (AI), all result in a variety of wearable Internet of Things (IoT) devices. That and nanotechnology (body patches and smart clothing) are helping to fuel this explosion. Unique to wearable technology is, in many cases, its interface with our biology, for monitoring (particularly vital signs), therapy, and augmentation.
Contributing to the growth of wearable technology are two other factors. First, it is being applied in numerous areas such as sports, assisted living facilities, manufacturing, and military, for a variety of reasons. Secondly, it has caught the attention of leading universities, such as Stanford and MIT, and government research labs, which are also spinning out entrepreneurial startups.
A lot of activity is experimental, and a good deal of it is happening internationally. Additionally, much of this activity is happening for clinical or institutional use under the direction of professionals.
Another current trend is that competition among medical alert companies is resulting in better, and more advanced products. Combined with monitoring services, these wearable devices are for use both inside and outside the home. These devices are specifically designed for the elderly, featuring fall detection, calling for help from anywhere, fitness, reminders, and communications.
As discussed in the Digital Health article, healthcare will become predictive instead of reactive and a significant future aspect of Digital Health. For this to happen wearables on millions of people need to contribute the data required by predictive applications which will use machine learning.
Two vision-related technologies, not related to impairment, are being investigated for potential benefits for the elderly. Augmented Reality (AR) projects images, information, etc., on a view of the real world. Virtual Reality (VR) is a computer-generated visual and audible environment that may be manipulated by the viewer.
Examples of AR that could benefit seniors are assistance when moving about by highlighting potential hazards, help to navigate as pedestrians, or explaining how devices operate. Most VR research relates to cognitive impairment (dementia, etc.). The winner of a 2017 MIT competition for healthcare innovations said: "We're using virtual reality to improve the way we age, so you don't become isolated, don't become depressed, and you can keep your mind happy and healthy".
Predictions and some work indicate that the future may go beyond wearable to include ingestible and implantable technology. 
For an interesting graphic representation of the history of wearables, see the Visual Capitalist's The History of Wearable Technology.
Considerations, Issues, and Problems to Understand
How is your health? If you are under a doctor's care for a condition and are thinking about wearable technology for it, your choices may be constrained. Hospital systems and other groups of healthcare providers, and even individual practitioners will evaluate and decide what wearable technology to provide patients if any.
A vital issue for them, and therefore you, is the ability to integrate the health data, created by a particular wearable device, into the electronic health records (EHR) of patients. This problem is known by the term interoperability.
If connecting to a healthcare provider is not an issue, then there are several other things to know, listed below in no particular order:
Appearance – products such as medical alert pendants are perceived by many seniors as a stigma and for a long time, many were considered ugly, especially by the ladies. Recently the trend is away from ugly design, and some products are indistinguishable from jewelry.
Size – is it going to be too large for your wrist? Too small so easily forgotten/misplaced/lost?
Comfort – wrist sensors may be too tight in order to function.
Design – most are not designed for the elderly. The interaction may be difficult or not understandable.
Power – does it use batteries or is it rechargeable? How long? How difficult? How costly? But there is hope on the horizon to eliminate this issue.
Certain classes of functionality, for example, vital sign monitoring, can be found in wearable technology products designed for different parts of the body, such as the wrist, or the ear, and may be included within the feature set of devices such as a smartwatch or earphones/earbuds.
Do you want, or need, a monitoring service? Medical alert services, which typically have a monthly cost, are used by a lot of people. There are alternatives which can communicate with directly caregivers rather than with an agent when needed.
How much functionality do you want, or need? Most products intended for use with people having a specific condition will not include additional functionality. As with other technology categories, vendors tend to add more functions for competitive reasons.
Communications – is a smartphone required?
Cost – of course, but many may not be covered by insurance. However, that may change if the technology can help reduce the insurers' costs.
Data integration – does your healthcare provider support wearable captured data to be integrated with your Electronic Health Record?
Customer support – a particularly important issue for the elderly.
You may want to continue on to the article about Telehealth to learn more about how this technology can integrate.