Ah, South Carolina, the Palmetto State! With its charming blend of Southern hospitality, warm climate, and rich history, it's no wonder many folks are eyeing the state as their retirement paradise. As someone who grew up with the cobblestone streets of Charleston under my feet, I've got some insider knowledge that just might tip the scales for you.
So, grab a glass of sweet tea and read on for my take on the best places to retire in South Carolina. Our recommendations are based on a comprehensive assessment of key factors that are important to older adults. See our complete methodology and sources at the end of the article.
Charleston: Historic Charm Meets Culture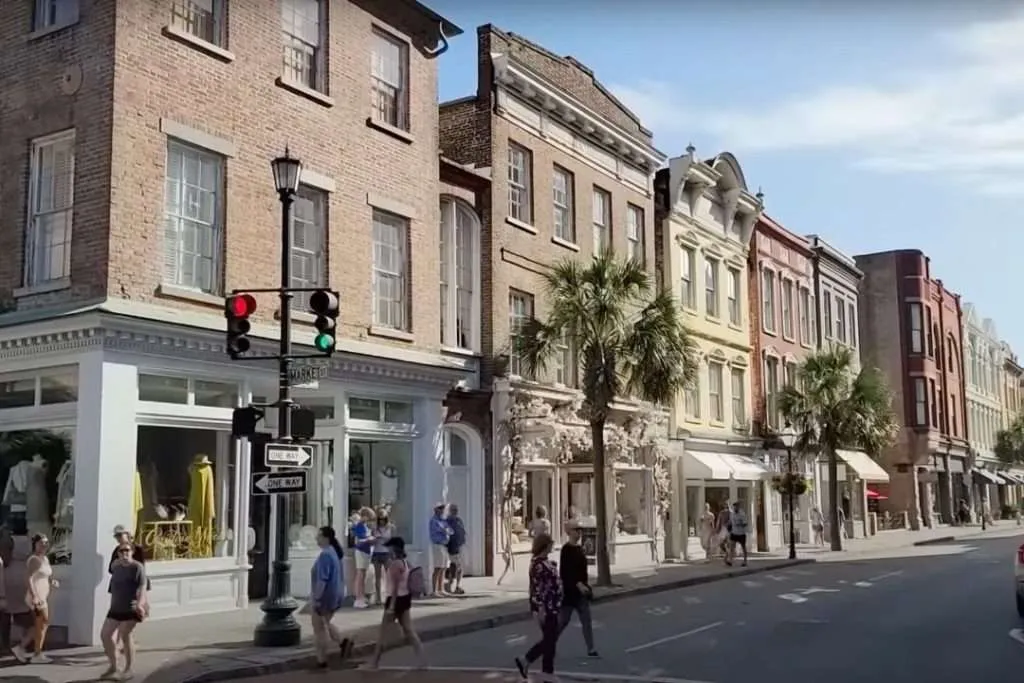 Highlights: Excellent healthcare, historic landmarks, and a vibrant cultural scene.
Population: 153,672
Percentage of population 65+: 15.1%
Cost of Living: B+
Healthcare: A+
Wellbeing: A+
Since I grew up here, Charleston had to be Number 1! Seriously though, Charleston ranks on the top of just about every retirement and travel list there is. It is a symphony of historic charm and contemporary vitality, making it an irresistible choice for retirees who crave a rich tapestry of experiences.
In the heart of Charleston, the cobblestone streets whisper stories of the past as horse-drawn carriages clip-clop alongside. The city's history is palpable, with landmarks like Fort Sumter, where the first shots of the Civil War rang out, offering a profound glimpse into America's history. 
The Battery promenade and Waterfront Park both offer stunning views of Charleston Harbor, while the historic homes of Rainbow Row paint a colorful scene of 18th-century life. Retirees with a penchant for history will find themselves lost in the myriad of museums, plantations, and famous homes.
But Charleston isn't just a history buff's haven. It's also a cultural hotspot, with the Spoleto Festival USA bringing artists from around the world to perform every spring. The amazing performances this festival brings in were always a highlight of my spring!
The city's culinary scene is a feast for the senses, with an emphasis on farm-to-table dining and fresh seafood that can be savored at award-winning restaurants. The Charleston City Market is a bustling hub where artisans showcase their crafts, perfect for an afternoon of exploration or finding that unique piece of local art to decorate a new home.
For those who love the outdoors, the city is a gateway to natural beauty. The nearby beaches of Sullivan's Island and Folly Beach offer sun-soaked relaxation and a chance to dip your toes into the Atlantic. The magnificently landscaped gardens of Magnolia Plantation and Gardens provide a serene escape with blooms and fauna that change with the seasons. And let's not forget the famous Angel Oak Tree, a living natural monument whose grandeur is a must-see. 
In Charleston, the blend of urban excitement and natural wonder creates a retirement lifestyle that is as relaxing as it is stimulating.
Mount Pleasant: Scenic Beauty, Suburban Ease
Highlights: Shem Creek's serenity, maritime heritage, and lush parklands.
Population: 94,545
Percentage of population 65+: 17.5%
Cost of Living: B+
Healthcare: A+
Wellbeing: A+
Mount Pleasant stands as a serene suburban counterpart to Charleston's urban charm, offering retirees a peaceful yet vibrant community to call home. The town's proximity to both beaches and the city makes it a prime location for those who enjoy a mix of relaxation and adventure.
One of Mount Pleasant's crowning jewels is the picturesque Shem Creek, lined with seafood restaurants and framed by fleets of shrimp boats. It's a spot where locals and visitors alike can savor fresh catches of the day while watching the sun dip below the horizon. 
For a touch of history, the Patriots Point Naval & Maritime Museum provides an immersive experience with the USS Yorktown aircraft carrier as its centerpiece, offering a tangible connection to America's naval heritage. 
Outdoor enthusiasts will find a haven in Mount Pleasant's numerous parks and green spaces. Palmetto Islands County Park is an expansive natural area that invites residents to wander through marshland landscapes. 
The Mount Pleasant Memorial Waterfront Park boasts the Sweetgrass Basket Pavilion, showcasing the area's rich basket-weaving culture. And golfers can indulge in their passion at one of several local courses, enjoying the mild climate that allows for year-round play. 
Greenville: Vibrant Urbanity, Natural Splendor
Highlights: Downtown vitality, artistic flair, and Blue Ridge Mountain beauty.
Population: 72,310
Percentage of population 65+: 16.9%
Cost of Living: A
Healthcare: A
Wellbeing: A
Greenville is a treasure nestled in the foothills of the Blue Ridge Mountains, offering retirees an eclectic blend of natural beauty and urban sophistication. This city has mastered the art of combining a bustling downtown scene with the tranquility of lush green spaces..
Downtown Greenville is the heart of the city, where the tree-lined Main Street pulses with energy. Here, retirees can explore a variety of shops, galleries, and restaurants, or take in a show at the Peace Center, a premier performing arts venue. 
The centerpiece of the downtown area is Falls Park on the Reedy, a stunning oasis featuring the Liberty Bridge, which hovers gracefully above the Reedy River falls. This park provides a picturesque setting for leisurely walks, picnics, and outdoor performances, all within walking distance of the city's vibrant main thoroughfare.
Beyond the urban charm, Greenville offers attractions that celebrate both its cultural heritage and natural beauty. The Greenville County Museum of Art houses an impressive collection, including works by Southern artists and the largest public collection of watercolors by Andrew Wyeth. 
For a taste of the outdoors, the nearby Paris Mountain State Park is a retreat that offers hiking, biking, and a serene lake perfect for kayaking or fishing. The Greenville Zoo is another favorite, providing a fun and educational experience for animal lovers. With its friendly atmosphere, cultural richness, and accessible natural wonders.
Travelers Rest: Tranquil Gateway to Nature
Highlights: Outdoor adventures, community spirit, and Swamp Rabbit Trail access.
Population: 8,486
Percentage of population 65+: 15.8%
Cost of Living: A
Healthcare: A
Wellbeing: A
Travelers Rest, affectionately known as "T.R." by locals, is a charming town nestled at the base of the Blue Ridge Mountains.
Its name is a nod to its history as a stopover for weary travelers in the 1800s. Today, it offers a peaceful retreat with the allure of outdoor activities and a close-knit community spirit that makes it a delightful place to settle down after years of hard work.
For those who love the great outdoors, the Swamp Rabbit Trail, a 22-mile multi-use greenway, runs right through the heart of town, providing a scenic route for walking, jogging, or cycling while taking in views of the surrounding mountains and forests. This trail connects to several parks and local businesses, making it a social artery of the community. 
And, the town is just a stone's throw away from state parks like Caesars Head and Table Rock, where hiking trails offer panoramic vistas and encounters with the diverse wildlife of Upstate South Carolina.
Travelers Rest also boasts a vibrant Main Street with an array of local eateries, boutiques, and artisan shops that reflect the town's unique character. The Travelers Rest Farmers Market is a popular attraction, offering fresh, locally-sourced produce and handmade goods, fostering a sense of community and sustainability. 
West Columbia: Suburban Serenity, Riverfront Views
Highlights: Riverwalk tranquility, historic allure, and market town vibrancy.
Population: 17,618
Percentage of population 65+: 15.8%
Cost of Living: A
Healthcare: A+
Wellbeing: A
West Columbia is a hidden gem for those seeking a blend of serene suburban life and the convenience of city amenities. With its friendly atmosphere, array of attractions, and easy access to healthcare and city conveniences, West Columbia offers a balanced and fulfilling retirement experience.
The town's Riverwalk Park is a highlight for residents, providing a picturesque setting for walking, jogging, or simply enjoying the natural beauty of the Congaree River. The park's gentle paths are perfect for leisurely strolls, where one can often spot local wildlife and take in the soothing sounds of the flowing river. 
For those interested in the arts, the West Columbia River District is home to quirky shops and galleries, as well as the New Brookland Tavern, a historic venue known for live music and performances that draw both local and national acts.
The city's proximity to Columbia means that cultural events and festivals are just a short drive away, yet far enough to maintain a quiet living space. Additionally, the West Columbia Farmers Market is a bustling spot where retirees can mingle with locals and enjoy some of the freshest produce and artisanal products from the region. 
Hilton Head: Coastal Elegance, Leisurely Living
Highlights: Premier golf courses, pristine beaches, and luxury resort living.
Population: 38,069
Percentage of population 65+: 38.4%
Cost of Living: B
Healthcare: A
Wellbeing: A+
Hilton Head is a slice of paradise for retirees who dream of a life that feels like an endless vacation. This South Carolina island beckons with its balmy weather, gorgeous beaches, and lush landscapes, making it a premier destination for those who seek relaxation and recreation in equal measure.
The island's natural beauty is on full display at its numerous beaches, such as Coligny Beach Park, which is not only a perfect spot for sunbathing and swimming but also offers convenient amenities and shops nearby. 
For golf enthusiasts, Hilton Head is nothing short of a haven with more than 24 championship courses set against the backdrop of stunning coastal scenery. The Harbour Town Golf Links, part of the Sea Pines Resort, is perhaps the most famous, known for hosting the RBC Heritage tournament, a PGA TOUR event that draws in crowds every year.
Beyond the greens and sandy shores, Hilton Head is rich in cultural experiences. The Coastal Discovery Museum offers a deep dive into the island's natural history and cultural heritage, providing a fascinating outing for curious minds. 
For a touch of the arts, the Arts Center of Coastal Carolina presents a variety of performances and visual arts exhibitions. And let's not forget the island's culinary scene, which is a celebration of fresh seafood and fine dining. 
Beaufort: Antebellum Beauty, Coastal Calm
Highlights: Historic district charm, waterfront park leisure, and cultural richness.
Population: 13,722
Percentage of population 65+: 27.3%
Cost of Living: B+
Healthcare: B+
Wellbeing: A+
Beaufort, with its antebellum architecture and storied streets, offers a picturesque setting for those who appreciate the charm of the Old South coupled with the comforts of modern living. This coastal town, nestled on Port Royal Island, is one of the state's most historic and enchanting places, providing a tranquil yet engaging backdrop for retirement.
The town's historic district is a living museum, where horse-drawn carriages and guided tours bring the rich tapestry of Beaufort's past to life. The Beaufort History Museum delves into the area's past, offering insights into the Civil War and the Reconstruction era. 
For a serene nature experience, the Spanish Moss Trail presents a scenic path for walking and biking, adorned with the iconic drapery of the South's beloved moss. And,  the nearby Hunting Island State Park features a historic lighthouse, pristine beaches, and opportunities for wildlife viewing.
The waterfront park is another local favorite, offering stunning views of the Beaufort River, and is a perfect spot for an afternoon picnic or a leisurely walk along the marina, where the yachts and sailboats bob gently in the tide.
Cultural life thrives in Beaufort, with the annual Beaufort International Film Festival showcasing independent filmmakers and the Beaufort Arts Council promoting the works of local artists. The town is also a haven for foodies, with a variety of restaurants serving up fresh local seafood and traditional Southern cuisine. 
Summerville: Blossoms and Southern Comfort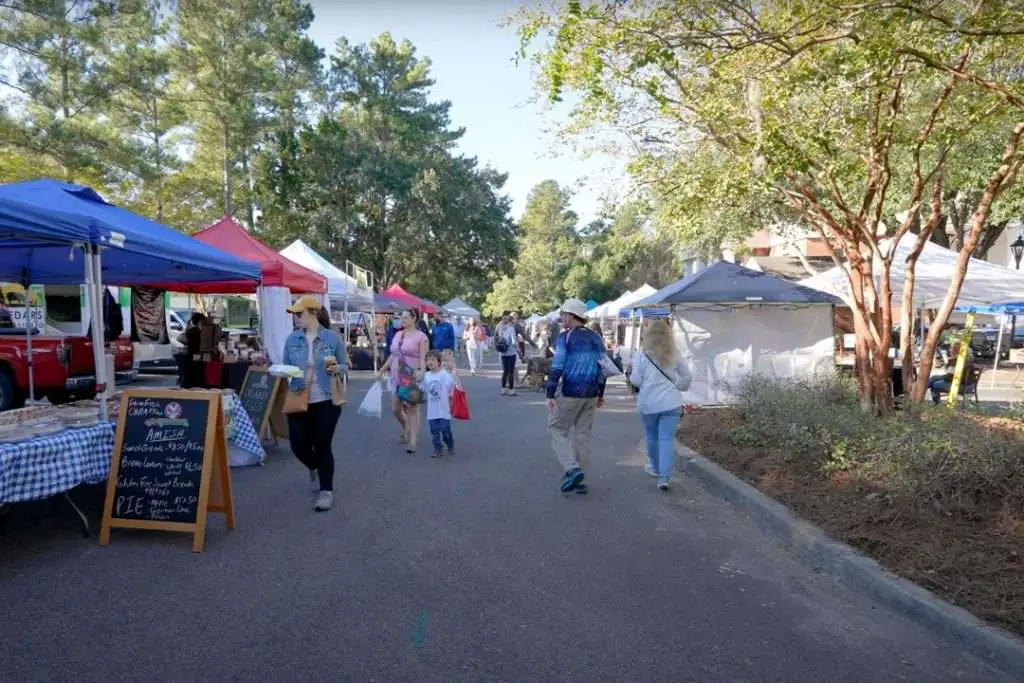 Highlights: Azalea blooms, small-town warmth, and historic downtown shopping.
Population: 51,617
Percentage of population 65+: 23.6%
Cost of Living: A
Healthcare: B+
Wellbeing: A
Summerville, affectionately known as "Flowertown" for its bloom-laden landscapes, is a sweet spot for retirees who cherish nature's beauty and a warm, community-oriented atmosphere. The historic downtown is a delightful mix of quaint boutiques, antique shops, and cozy eateries, all inviting leisurely exploration. 
The town square, with its welcoming gazebo and flowering planters, is the heart of community gatherings and local festivities. The annual Flowertown Festival, one of the largest arts and crafts festivals in the Southeast, transforms the town into a vibrant tableau of artisanal crafts, food, and entertainment, drawing visitors and locals alike to celebrate the beauty of spring.
For outdoor enthusiasts, Azalea Park offers a serene setting for walking, picnicking, and simply enjoying the outdoors among the azaleas for which the town is famous. The park also features sculptures and winding paths that invite peaceful contemplation. 
The Sawmill Branch Trail provides a more active option, with a multi-use path ideal for biking, jogging, or bird watching. And for a touch of history, the Colonial Dorchester State Historic Site offers a glimpse into South Carolina's colonial past with its preserved fort ruins and archaeological treasures. 
Bluffton: Quaint Town, Riverfront Charm
Highlights: May River views, old town artistry, and antebellum elegance.
Population: 34,493
Percentage of population 65+: 18.8%
Cost of Living: B+
Healthcare: B+
Wellbeing: A+
Bluffton is a delightful coastal village that exudes old-world charm and a relaxed lifestyle. Nestled along the bluffs of the May River, this town is rich in antebellum history, offering a slower pace of life where the community is close-knit, and the natural surroundings are simply breathtaking.
The heart of Bluffton is its Old Town, a buzzing district of historic homes, charming boutiques, and art galleries that reflect the town's creative spirit. The weekly Farmers Market is a staple, providing residents with fresh, locally-sourced produce and a chance to socialize with neighbors and local artisans. 
The Church of the Cross, a striking Gothic Revival structure, stands as a testament to Bluffton's historical depth, offering a serene spot to reflect and soak in views of the river.
Outdoor activities are plentiful in Bluffton, with the May River serving as a playground for fishing, boating, and kayaking, allowing residents to connect with the area's natural beauty. The river's pristine waters are also home to the famous Bluffton oysters, celebrated for their unique flavor. 
For golf enthusiasts, Bluffton is surrounded by world-class golf courses, including those in the nearby Hilton Head Island. The town's commitment to preserving its natural and historical resources can be seen at the Bluffton Oyster Factory Park, where the rich heritage of the oyster industry is honored. 
Socastee: Quiet Suburbia, Waterway Life
Highlights: Historic swing bridge, waterway activities, and Myrtle Beach proximity.
Population: 24,657
Percentage of population 65+: 24.9%
Cost of Living: A+
Healthcare: A
Wellbeing: B+
Socastee is a peaceful suburb of Myrtle Beach that offers an affordable and quiet life with the convenience of nearby coastal attractions.
The Historic Socastee Swing Bridge, a landmark over the Intracoastal Waterway, is a testament to the area's charm and serves as a gateway to the delights of the Waterway. Here, retirees can enjoy leisurely boat rides, fishing, or simply watching the yachts glide by from the banks. 
The Socastee Historic District provides a glimpse into the area's past with well-preserved buildings and the Socastee Creek Park, which offers a natural retreat for bird watching and picnicking in a tranquil setting.
For those who enjoy a more active lifestyle, the nearby Market Common district presents an upscale shopping and dining experience, along with a large urban park where community events and festivals are regularly held. 
Golfers will appreciate the numerous courses in and around Socastee, each offering a unique golfing experience amidst the stunning South Carolina landscape. And for a change of pace, the excitement and entertainment of Myrtle Beach's Grand Strand are just a short drive away, providing endless options for dining, shopping, and entertainment. 
North Myrtle Beach: Beachside Bliss, Family Fun
Highlights: Pristine beaches, golfing destinations, and seaside entertainment.
Population: 19,836
Percentage of population 65+: 23.7%
Cost of Living: A+
Healthcare: A+
Wellbeing: B+
North Myrtle Beach is a vibrant coastal city that combines the laid-back beach lifestyle with a touch of excitement and luxury. This city is a quieter, more residential alternative to its bustling neighbor, Myrtle Beach, offering a more relaxed pace without sacrificing the fun and sun of a beach town.
The city's long stretches of soft, sandy beaches are the main draw, with Cherry Grove Beach being a local favorite for its family-friendly atmosphere. The iconic Cherry Grove Fishing Pier extends into the Atlantic, offering stunning views and the thrill of the catch for fishing enthusiasts. 
For those who enjoy a good walk or a round of golf, the area boasts several beautifully landscaped golf courses, including the Tidewater Golf Club, which offers challenging play with scenic views of the Intracoastal Waterway and saltwater marshes.
North Myrtle Beach isn't just about leisure; it's also a hub of entertainment and culture. The Alabama Theatre presents live shows ranging from concerts to comedy acts, while the House of Blues offers a mix of live music and southern-inspired cuisine. 
And when it comes to dining, retirees can indulge in fresh seafood at waterfront restaurants or enjoy a variety of cuisines at eateries throughout the city. With its blend of beachfront relaxation, golfing greens, cultural attractions, and culinary delights, North Myrtle Beach is an ideal locale for a retirement that feels like a perpetual vacation.
Spartanburg: Cultural Hub, Historical Heart
Highlights: Great affordability, cultural centers, and scenic trails.
Population: 38,584
Percentage of population 65+: 16.5%
Cost of Living: A+
Healthcare: A
Wellbeing: B+
Spartanburg offers a unique blend of Southern charm and cultural sophistication. Known as the "Hub City" due to its historical significance as a railroad center, Spartanburg is rich in history and brimming with energy, providing an ideal setting for an active and engaging retirement.
The city's downtown area is a focal point of activity, where retirees can enjoy a variety of shops, cafes, and restaurants. Morgan Square, the heart of downtown, is a hub for community events and gatherings, including live music and seasonal festivals. 
The Chapman Cultural Center stands as a beacon for the arts, housing the Spartanburg Art Museum, the Spartanburg Regional History Museum, and the Spartanburg Science Center, all of which offer educational and cultural enrichment for curious minds. Additionally, the Spartanburg Little Theatre and Ballet Spartanburg provide high-quality theatrical and dance performances throughout the year.
The Hatcher Garden and Woodland Preserve is a tranquil oasis with walking trails that meander through beautifully landscaped gardens and ponds, perfect for a leisurely stroll or a picnic. The Glendale Shoals Preserve offers a more rugged natural experience with its historic mill and waterfall, ideal for photography or simply enjoying the sounds of nature. 
And for those with a passion for cycling, the city is known for its active cycling community and the Mary Black Foundation Rail Trail, which provides a safe and scenic route for bikers and walkers alike. Spartanburg's rich blend of culture, history, and natural beauty makes it a standout choice for retirees looking for a dynamic yet peaceful place to call home.
How we determined the best places in South Carolina to retire
Overall, South Carolina has a cost of living that is 11.5% lower than the U.S average. It boasts amazing weather, and is often one of the top vacation destinations in the world!
South Carolina shines when it comes to tax benefits for retirees. Social Security benefits and military retirement income are completely exempt. And, like Virginia, taxpayers aged 65 or older can exclude up to $10,000 of retirement income.
One potential downside to South Carolina is the healthcare. South Carolina currently ranks 17th worst in the country for health care, but there are signs of improvement.
Some places in South Carolina are better for retirees than others. And we determined that by looking at a number of factors, such as residents 65 and older, crime rates, housing costs, access to healthcare, and wellbeing scores. Here's how we scored the list and the data sources we used.
Even though I only lived there during college, I also love North Carolina. And, it also offers another great place to retire. Check out our Places to Retire in North Carolina article for more information.