Virginia, often referred to as the "Old Dominion," offers a unique blend of history, culture, and natural beauty, making it a top retirement destination. From the picturesque Blue Ridge Mountains to the serene beaches of the Chesapeake Bay, the state boasts a diverse landscape that caters to various lifestyles. It's also the place I call home, so I may be a little biased!
The best places to retire in Virginia not only provide scenic views but also offer a plethora of activities, access to healthcare, and communities that prioritize the needs of seniors. Here's a rundown of the best places in Virginia to retire based on a comprehensive assessment of key factors that are important to older adults. See our complete methodology and sources at the end of the article.
Falls Church
Highlights: Excellent healthcare; minutes from metropolitan DC; and amenities galore
Population: 14,586
Percentage of population 65+: 12.2%
Cost of Living: B+
Healthcare: A+
Wellbeing: A+
Nestled in the heart of Northern Virginia, Falls Church is a hidden gem that offers its residents an unparalleled quality of life. Renowned for its top-tier healthcare facilities, residents of Falls Church are also some of the happiest in the state.
Falls Church boasts low crime rates and vigilant community watch programs. And, the city has an enormous range of amenities, from quaint local boutiques to expansive parks. Recreational centers, libraries, and community events foster a sense of belonging and camaraderie among residents.
If being close (15 minutes) to world-class arts and dining, such as DC's Kennedy Center and Michelin-starred restaurants, is important to you, then Falls Church may be the perfect spot. The town's focus is on creating an environment where every individual thrives, making it a haven for those seeking the perfect blend of safety, health, and quality amenities.
Arlington
Highlights: Urban vibrancy; minutes from metropolitan DC; and wellness focus
Population: 235,764
Percentage of population 65+: 8.85%
Cost of Living: B+
Healthcare: A+
Wellbeing: A+
While Falls Church offers a quaint and tight-knit community feel, Arlington stands out with its larger, more urban ambiance and youthful vibe. This dynamic city, just a stone's throw away from the nation's capital, seamlessly blends the vibrancy of city life with the comforts of suburban living.
Arlington's healthcare system is top-notch, safety is high priority, and amenities are plentiful. The emphasis on wellbeing is evident in Arlington's numerous fitness centers, walking trails, and community programs that promote physical and mental health. In short, Arlington offers a unique blend of urban sophistication and community-focused living, the best of both worlds.
Fairfax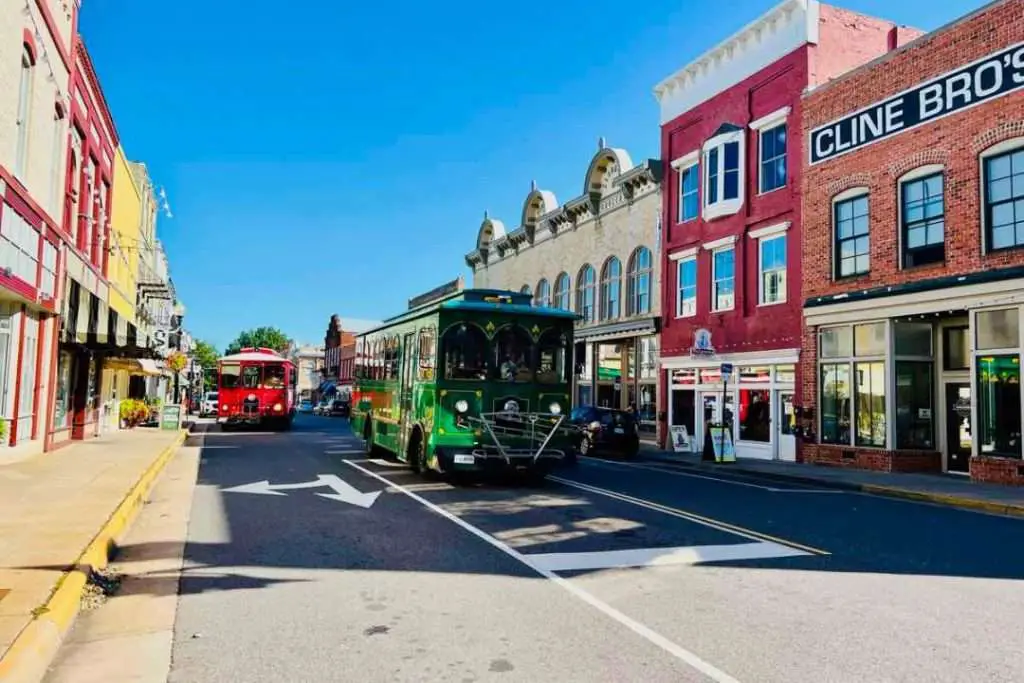 Highlights: Suburban delight with a focus on the outdoors and wellness
Population: 24,835
Percentage of population 65+: 16.32%
Cost of Living: B+
Healthcare: A+
Wellbeing: A+
While Arlington buzzes with urban energy, Fairfax (both the city and the entire county) takes a step back, offering a quieter, suburban feel that many older adults (and those young at heart) find absolutely delightful. But don't let its quiet demeanor fool you; Fairfax boasts a range of amenities that would make any city dweller green with envy. Parks, shopping centers, and community events – it's all there.
In addition, the city is home to some of the region's best medical centers. And the focus on wellbeing is like a cherry on top. Fitness programs, community gatherings, and wellness initiatives? Check, check, and check!
Fairfax county boasts many of the top towns in the state, such as Belle Haven, Dranesville, Dunn Loring, Lake Barcroft, McLean, Reston, and Vienna. All have a slightly different feel, but the same great access to healthcare and amenities. So, if you're looking for a blend of peace and top-tier services, check out Fairfax.
Crozet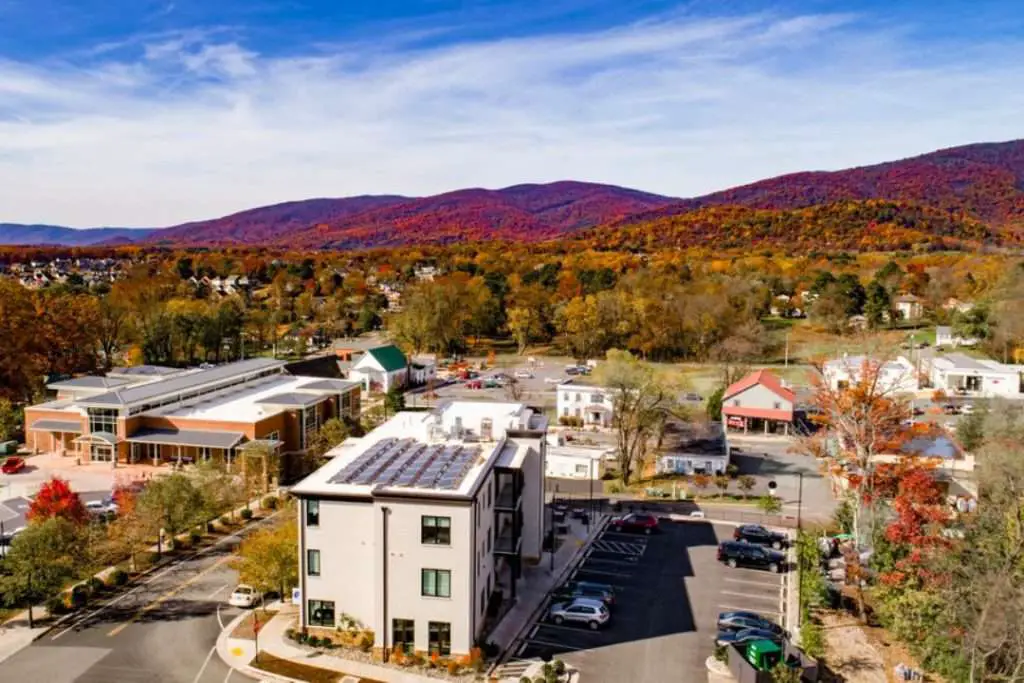 Highlights: Rural beauty; numerous vineyards and parks; lots of sunshine
Population: 7,840
Percentage of population 65+: 19.95%
Cost of Living: A
Healthcare: A
Wellbeing: A+
Tucked away in the picturesque foothills of Virginia's mountains lies Crozet, a hidden gem that captures the essence of rural beauty. This charming town, with its breathtaking vistas of rolling hills and serene landscapes, offers a tranquil retreat for those seeking a connection with nature. The majestic backdrop of the mountains perfectly complements Crozet's renowned vineyards, where one can savor the finest wines while soaking in panoramic views.
But there's more to Crozet than just its natural allure. A significant percentage of its residents are older adults, drawn to the town's peaceful ambiance and close-knit community. This harmonious blend of young families and seasoned citizens creates a unique tapestry of experiences and stories.
And for those moments when one craves a touch of urban excitement, Charlottesville is just a short drive away, offering a plethora of cultural, dining, and shopping experiences. In essence, Crozet is the ideal haven for those seeking the tranquility of rural life, with the conveniences of a city nearby.
Alexandria
Highlights: Old-world charm; excellent shopping and dining; and one of the highest resident happiness scores in the state
Population: 155,525
Percentage of population 65+: 9.95%
Cost of Living: B+
Healthcare: A+
Wellbeing: A+
Steeped in rich history and adorned with cobblestone streets, Alexandria, stands as a testament to the nation's storied past. This enchanting town, nestled along the banks of the Potomac River, boasts a plethora of well-preserved historic landmarks, each echoing tales of bygone eras.
But Alexandria isn't just about the past; it's a vibrant town that offers a modern twist to its historic roots. The city is a shopper's paradise, with a myriad of boutique stores and artisanal markets that cater to every whim and fancy. Foodies will delight in the diverse culinary scene, where quaint cafes coexist with gourmet restaurants.
Above all, the radiant smiles and contented sighs of its residents speak volumes about the city's commitment to ensuring happiness and wellbeing. In Alexandria, the harmonious blend of history, modern amenities, and a joyful community creates an atmosphere that's truly unparalleled.
Charlottesville
Highlights: Natural beauty; access to world-class education; and youthful excitement
Population: 45,373
Percentage of population 65+: 9.16%
Cost of Living: B+
Healthcare: A+
Wellbeing: A+
Like Alexandria, Charlottesville is a captivating blend of historical significance and modern vibrancy. As the home of the University of Virginia, the town has a youthful vibrancy that is focused on learning (most of the time).
Charlottesville is also the perfect gateway to the breathtaking Shenandoah National Park. Nature adventures, wine enthusiasts, and those looking to learn something new every year of life will all be drawn to this beautiful city.
Great access to healthcare, dining and shopping, cultural activities, and many more amenities make Charlottesville an excellent choice for a southern retirement.
Cave Spring (Roanoke County)
Highlights: Dense suburban feel; access to big-city amenities; and affordable
Population: 25,248
Percentage of population 65+: 22.59%
Cost of Living: A+
Healthcare: A
Wellbeing: B+
Ever found yourself daydreaming about a place that's easy on the wallet, has that cozy suburban vibe, and is just a hop, skip, and a jump away from a bustling city? Well, Cave Spring might be just the ticket. With a lower cost of living than any place we've discussed so far, Cave Spring still offers many amenities of a big city. And Roanoke is right next door.
Cave Spring has a large older adult population and access to great healthcare. In addition, it boasts dining and shopping that punches above its weight-class. Couple all of that with great parks and wellness amenities and you've got a lovely retirement destination.
Leesburg (and Loudoun County)
Highlights: Historic downtown; beautiful countryside; and great shopping and dining
Population: 48,974
Percentage of population 65+:10.59%
Cost of Living: B
Healthcare: A
Wellbeing: A+
Ever felt the allure of a place where history meets the present, all set against a backdrop of breathtaking mountain vistas? That's Leesburg in a nutshell for you. This quaint town, nestled amidst Virginia's scenic mountains, is a wonderful place to call home.
But Leesburg isn't just about history and mountains. Oh no, it's a vibrant hub of modern life too! The town offers a smorgasbord of dining delights, from quaint cafes to upscale restaurants, and an eclectic mix of boutique stores, antique shops, and contemporary outlets.
And the best part? Leesburg gets a top rating for wellbeing. Living amidst such beauty, both historical and natural, it's no wonder residents radiate happiness. So, if you're looking for a place that offers a slice of history, a dash of modern life, and a generous helping of natural beauty, Leesburg is calling your name!
Virginia Beach
Highlights: Outdoor beauty and activities; lower cost of living; and many amenities
Population: 455,618
Percentage of population 65+:14.43%
Cost of Living: A
Healthcare: A
Wellbeing: B+
Virginia Beach is a coastal gem renowned for its stunning sandy stretches and lively boardwalk. But it is also a haven for those seeking a high-quality life without breaking the bank. With a lower cost of living, retirees can spend more time enjoying many of the outdoor activities available, like surfing, fishing, boating, or just strolling on the beautiful boardwalk.
It's been named a great retirement destination, and it's easy to see why. The combination of outdoor beauty and activities, big-city amenities, and overall affordability make Virginia Beach an enticing place to retire.
Winchester
Highlights: Heart of the Shenandoah Valley; historic downtown; and lower cost of living
Population: 27,936
Percentage of population 65+:16.3%
Cost of Living: A
Healthcare: A
Wellbeing: A-
Nestled in the heart of the Shenandoah Valley, Winchester stands as a beacon of history and culture. Its historic downtown is a captivating blend of the past and present, where centuries-old buildings coexist with modern amenities, offering residents a taste history amid great shopping and dining.
Shenandoah University, a prestigious Winchester institution, not only elevates the town's academic profile but also infuses it with a youthful and dynamic energy. The university's presence brings a myriad of cultural events, performances, and community engagements, enriching the town's already vibrant atmosphere.
And last but not least, Winchester boasts a lower cost of living compared to many other cities, making it an attractive choice for any retiree. With its unique blend of history, the vibrancy of Shenandoah University, and its affordability, Winchester truly offers a one-of-a-kind living experience in the heart of the valley.
Richmond
Highlights: Big city vibrancy; historic state capital; and lower cost of living
Population: 229,395
Percentage of population 65+:11.74%
Cost of Living: A
Healthcare: A+
Wellbeing: B
Richmond, Virginia's historic state capital, is a city that seamlessly marries its storied past with a vibrant and contemporary spirit. Home to esteemed institutions like Virginia Commonwealth University (VCU) and the University of Richmond, the city pulses with youthful energy, intellectual pursuits, and a dynamic arts scene.
However, like any thriving urban center, Richmond has its challenges. While it boasts a lower cost of living compared to many other major cities, it's not without its share of crime, and newcomers might find the pace a bit frenzied at times. But for those who embrace its rhythm, Richmond offers a variety of amenities hard to find elsewhere.
Rappahannock County
Highlights: Rural beauty; fantastic dining; and excellent outdoor activities
Population: 7,400
Percentage of population 65+:28.01%
Cost of Living: A
Healthcare: B+
Wellbeing: B
Without a single stop light in the county, Rappahannock is my absolute favorite rural area in Virginia. Nestled at the foot of the mountains and Shenandoah National Park, its sprawling vineyards and farms paint a serene picture, offering a tranquil escape from the hustle and bustle of urban life. And, the county is committed to preserving its agricultural heritage-no subdivisions here.
It's not all cows and goats though. There are amazing restaurants, including the only three-star Michelin restaurant in the Washington area, beautiful vineyards, hiking, community festivals, farm markets, and the list goes on.
The blend of natural beauty, top-tier dining, and a myriad of recreational activities makes Rappahannock County a top notch retirement destination for those seeking a perfect blend of relaxation and adventure.
How we determined the best places in Virginia to retire
Overall, Virginia is a great place to retire. When it comes to taxes, Virginia does not tax Social Security, and if you're a senior, you can deduct up to $12,000 of your retirement income from your state taxable income.
However, some places in Virginia are better for retirees than others. And we determined that by looking at a number of factors, such as residents 65 and older, crime rates, housing costs, access to healthcare, and wellbeing scores. Here's how we scored the list and the data sources we used.
Even though I only lived there during college, I love North Carolina. And, it also offers another great place to retire. Check out our Places to Retire in North Carolina article for more information.